Ch Coral Bay's Promises Promises
sire: Ch. Glory's Apache ROM dam: Ch. Coral Bay's Hugapug Hot Sauce
Missy (pictured above at 6 months) finished at 10 months of age
with 3 majors. This typey little bitch has tons of bone, substance and attitude!
and here's Missy at 10 months!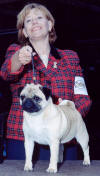 Missy was Breeder-Owner-Handled by Carol Anne Giles and was co-bred by Judi Crowe
Here's Missy with her Mastiff friend in her new home with Vicki Hix....she fits right in!
Thanks Vicki for giving Missy such a wonderful home!
C e r t i f i c a t e o f P e d i g r e e TN15244305
BIS/BISS TN31131805
I certify that the information contained herein is accurate: Ch. Sheffield's Little Red Wagon ROM Ch. Sheffield's Rose Tattoo Ch. Sheffield's Country Cousin Ch. Gerrie's Rory of Charlamar Gerrie's Gypsy of Charlamar Ch. Charlamar's Ancient Dreamer ROM Ch. Gerrie's Ginger No Name Ch. Charlamar's Indian Scout ROM Ch. Charlamar's J Randall Brown ROM Ch. Charlamar's Billy Jo Black Ch. Nunally's Witch Hazel Ch. Charlamar's Miss Tooie Ch. Glory's Apache ROM Broughcastl Amy of Charlamar Ch. Bonjor Clark Kent Ch. Hesters Amber Lady Ch. Sheffield's Jersey Joe Porter Ch. Sheffield's Little Red Wagon ROM Ch. Dannah's Smokin' Joe Manalapans September Song ROM Glory's Bon Bon Ch. Glory's Doctor Dimento Ch. Glory's Sadie Hawkins Ch. Glory's Shooting Star Calico Farm Sir Ralph of Gore Gore's Mr Buckshot Ch. Pfau's Lady Gidget of Gore Sassy Shasta O'Gore Gore's Legacy Lady Ch. Gore's Fanci Adam Nally's Li'l Skimper Ch. Ritters Busy Beaver Ch. Ritters Just Right Ch. Ritter's Bruno of Stabradav Ch. Ritters Smartie Pants Ch. Ritter's Country Lace Ch. Ritter's Wooden Nickel Ch. Frodun-DuLittle's All Fired Up Ch. Ritters Smartie Pants Ch. Sheffield's Jersey Bounce ROM Ch. Cotswold LaBounce of Frodun Ch. Sheffield's Little Red Wagon ROM Frodun's Merry Mobilian Manalapans September Song ROM Ch. Coral Bay Hugapug Hot Sauce Ch. Bonjor Chipper Frodun's Merry Dreamer Ch. Charlamar's Indian Scout ROM Ch. Gerrie's Rory of Charlamar Ch. Charlamar's Miss Tooie Ch. Coral Bay's Sno Dove of Hugapug Ch. Glory's Sadie Hawkins Ch. Dannah's Smokin' Joe Ch. Pfau's Lady Gidget of Gore Ch. Porter's Spirit of Eighty Six Ch. Sheffield's Little Red Wagon ROM Manalapans September Song ROM Ch. Sheffield's Bouncing Bet Ch. Sheffield's Jersey Bounce ROM Ch. Sheffield's Second Sequence Ch. Glory's Apache ROM TN15244305
Ch. Hugapugs Little Bit of Bet REG. NAME: Ch. Coral Bay's Promises Promises BREEDER(S): Carol Anne Giles TITLES: Judi Crowe REG. # OWNER: Carol Anne Giles BREED: PUG CO-OWNER: Michael Giles COLOR: Fawn BIRTH DATE: 01/04/2002 SEX: F ADDITIONAL INFORMATION: TP29107601 Signed: Date